mediterranean tuna piza
As an Amazon Associate I earn from qualifying purchases.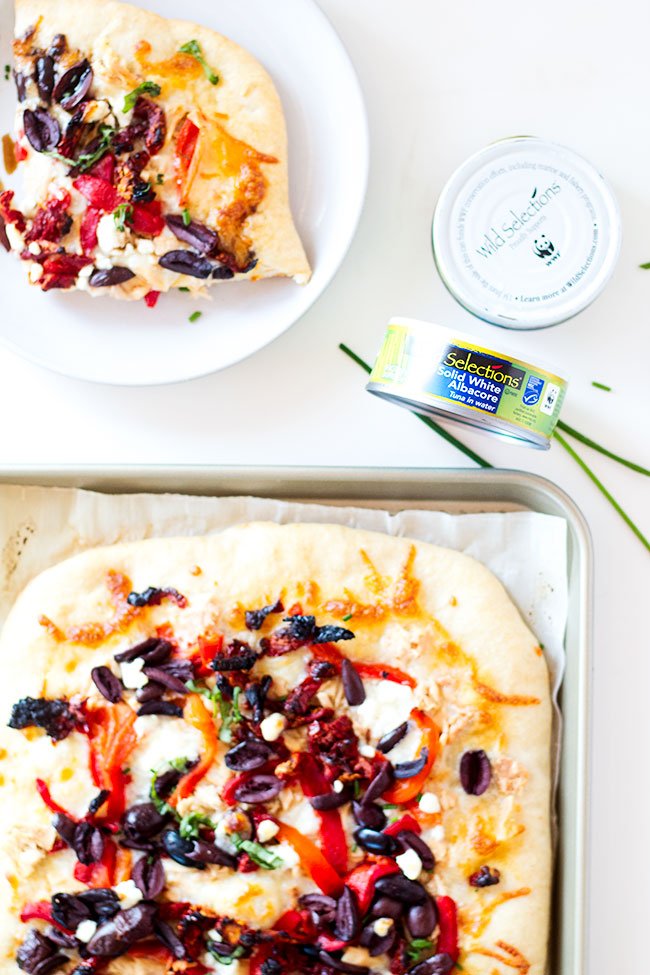 click the above image to find Wild Selections near you
  Thank you Wild Selections® for sponsoring this post. For a more sustainable meal, be sure to check out Wild Selections® premium seafood — it's always healthy, always Marine Stewardship Council certified, and always delicious.  
pizza night happens in our house every week. i cannot tell you how many pizzas i have made over the years, but i'm sure the number would be staggering. since getting an  outdoor pizza oven
we make them even more often, especially in the summer when no one wants to turn on the oven
but when you make 2 or 4 pizzas a week, every week, the usual topping can get a bit boring. stella sticks with her traditional margherita week after week. charlie is happy as long as there is meat, but ian and i try to mix tings up a bit. this mediterranean tuna pizza happened by accident, but has fast become a new favorite.
the kids wanted pizza, but i had none of the usual fixings other than a block of mozzarella. but in my pantry you will always find a few jars of olives, sun dried tomatoes and we always stock a few cans of 
Wild Selections Solid White Albacore Tuna in water
.  add some roasted red bell peppers, crumbled goat cheese and fresh herbs for a pizza that is bursting with flavor.
easy mediterranean tuna pizza
mediterranean tuna pizza
Ingredients:
1 recipe easy overnight pizza dough
2 Tbsp olive oil
1 clove garlic, minced
1 1/2 cups shredded mozzarella cheese
1/ 2 cup sliced kalamata olives
1/2 cup thinly sliced roasted red bell pepper
1/2 cup sun dried tomatoes
4 Tbsp crumbled goat cheese
fresh herbs -  parsley, basil, or chives, chopped (optional)
Directions:
preheat your oven to 450 degrees (or a pizza oven to 700) preheat your pizza stone if using
divide and roll dough to make 2 medium or 4 individual pizzas
in a small bowl combine the olive oil and garlic, and brush on the pizza dough
add the mozzarella cheese followed by the tuna,olives, peppers, tomatoes
top with the crumbled goat cheese
bake pizza on a preheated pizza stone or baking sheet 10 - 15 minutes in the oven for medium pizzas, 8 - 10 for individual pizzas in the pizza oven individual pizzas take 5 - 7 minutes
once baked sprinkle pizzas with herbs, drizzle with balsamic glaze and serve
to balance the saltiness of the olives i like to finish this pizza with fresh herbs and a drizzle of balsamic glaze once baked, but this is completely optional
pizzas made on the grill or in a pizza oven bake better when you use fewer toppings  (1 cup and not 1 1/2 cups of the mozzarella using 1/4 cup per pizza and only a tablespoon or two of the other toppings for each individual pizza). in the oven you can load it up 🙂
not only do all Wild Selections products use simple ingredients and are non-GMO Project Verified, but they also donate 13 cents from the sale of each can to support World Wildlife Fund's efforts to protect marine life and expand sustainable fishing practices, up to $1 million by the end of this year!  they are truly paying it forward so that the oceans are taken care of for generations to come
I was selected for this opportunity as a member of CLEVER and the content and opinions expressed here are all my own.
enjoy!